A Starbucks barista received a $12,000 tip after being shamed by a "Karen" on social media.
Lenin Gutierrez, the Starbucks barista, thanked the thousands of people who donated more than $12,000 to a GoFundMe.
In a prerecorded video Gutierrez said:
"I just wanted to say thank you for all of the love and support and what everyone is doing.
"It's an honor to see all this happen," said Gutierrez, a barista at the 4227 Genesee Avenue Starbucks.
Why Such A Big Tip?
On June 23rd, Amber Lynn Gilles, from San Diego took to Facebook and posted a photo of a Starbucks barista who refused to serve her coffee because she wasn't not wearing a mask. 
The woman tagged the Genesee store writing: 
"Meet lenen [sic] from Starbucks who refused to serve me cause I'm not wearing a mask. Next time I will wait for cops and bring a medical exemption."
The post went viral and the woman's words backfired at her.
Backlash then happened and the post created more than 40,000 shares calling the woman a "Karen" while praising Lenin.
A "Karen" is used to describe a pejorative term for a woman perceived to be entitled. Moreover, a Karen is demanding beyond the scope of what is considered appropriate or necessary.
Starbucks did release a statement about the rule of wearing a mask in their stores.
"We want everyone to feel welcome in our stores," said Starbucks in an email sent to CBS8. "We respectfully request customers [to] follow social distancing and safety protocols" they added.
As of Friday, the post already garnered around 133,000 comments from people reprimanding her actions towards the barista. On the other hand, people also commended the barista from standing up against Gilles.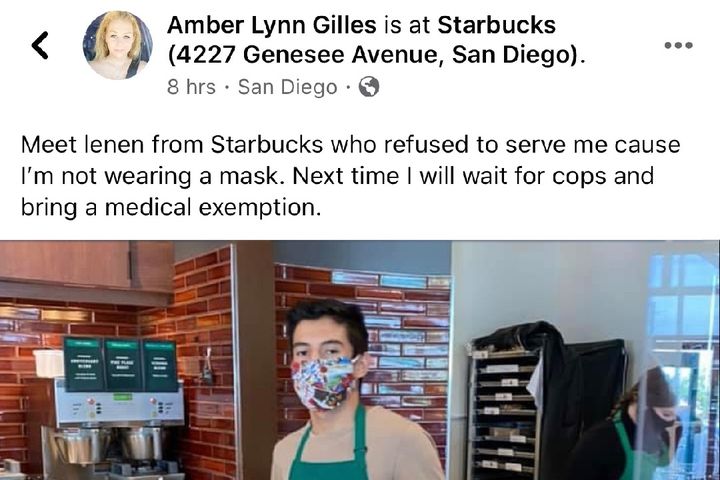 The Praises
The post encouraged Matt Cowan, a civilian, to set up a GoFundMe page for Lenin Gutierrez, the barista shamed by Gilles. The purpose of the page is to give tips to Gutierrez for standing his ground against "A San Diego Karen".
The people's support over Gutierrez struck Cowan.
"What Lenin did was the right thing, he was just doing his job and didn't deserve to be berated in the store," he said
"I set it at $1000, thinking that was a reach," Cowan told KGTV. "When we hit $100 I was overwhelmed by that," he added
Former Starbucks partner Courtney White defended Gutierrez.
"This is a minimum wage job he is trying to get through his day," she said.
"Shame on her for shaming him for doing his job," said White, referring to the woman described as Karen.
Giles Defends Her Actions
Soon after the news of Gutierrez's GoFundMe tips become public, Gilles sent a video to NBC7, defending her actions.
"I never threatened him, I just called him out on his actions", said Gilles.
As per NBC, Gilles is threatening to sue Cowan for defamation and slander. Also, Gilles expressed that she wanted her part of the money Gutierrez is getting from the GoFundMe page.