Critics blamed the Myanmar government for its failure to regulate the risky mining conditions for the series of mine mishaps that took place in recent years.
The worst and the latest happened on Thursday in the town of Hpakant.
The Myanmar Fire Service Department reported that 162 remains were recovered from the mine.
The World's Most Lucrative Jade Mine
In fact, in 2014, the jade industry in Myanmar raked in about $31 billion.
The town of Hpkant boasts the biggest and most booming jade mines in the world.
It is located north of Yangon or Rangoon which is Myanmar's capital city until 2006.
"The jade miners were smothered by a wave of mud," the Fire Service said.
The Fire Department took 54 injured people to hospitals.
An unknown number of people are still missing.
The army, other government units and local volunteers are taking part in the recovery operations.
Global Witness, a London-based environment watchdog commented, on the accident.
The accident "is a damning indictment of the government's failure to curb reckless and irresponsible mining practices in Kachin state's jade mines", they said.
"The government should immediately suspend large-scale, illegal and dangerous mining in Hpakant," said Global further.
Ensuring companies, "that engage in these practices are no longer able to operate", it added.
Rescue workers had to waddle through heavy mud to retrieve bodies by wrapping them in blue and red plastic sheets.
Despite the rain, a crowd gathered around the recovered corpses.
Global's activists has reproached the government for its neglect to overhaul the weak mining regulations.
"The multi-billion dollar sector is dominated by powerful military-linked companies, armed groups and cronies," they said.
In addition, these groups "have been allowed to operate without effective social and environmental controls for years".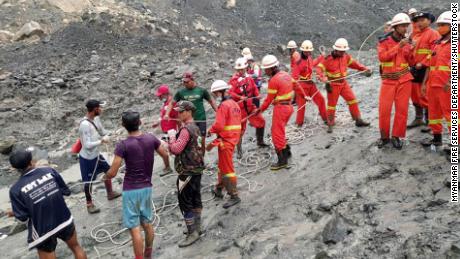 Death Toll Surpassed Previous Mine Mishaps
July 2020's death toll surpasses that of a November 2015, an accident that resulted to 113 deaths.
The 2015 accident victims died when a towering pile of earth and waste discarded by several mines barreled down and covered more than 70 huts which housed the miners.
The freelance miners who scavenge for small bits of jade in abandoned mining pits are the usual casualties in such mining accidents. 
They live and work in pits that become unstable during the rainy season.
Global Witness reproached the government of Aung San Suu Kyi for failing "to implement desperately needed reforms, allowing deadly mining practices to continue and gambling the lives of vulnerable workers in the country's jade mines."
Jade mining has a significant role in the struggle of ethnic minority groups in Myanmar which spans more than a decade.
The area where Kachin minority is dominant has huge deposits of rubies, as well as jade.
However, the Kachin minority remains impoverished.
How do you feel about the Myanmar landslide?