Following the story of tennis player Grigor Dimitrov testing positive for coronavirus, world number 1 Novak Djokovic received some backlashes.
Djokovic is currently facing criticism after two leading players tested positive for coronavirus having played at his tournament, said CNN.
The number 1 ranked tennis player organized the Adria Tour tournament in Zadar, Croatia.
Other than World No. 19 Dimitrov, Number 33 Borna Coric also tested positive for coronavirus.
The two tennis players played against each other during the Adria Tournament.
After Dimitrov tested positive, the event was swiftly canceled.
Djokovic's agent, Elena Cappellaro, told CNN that the Serb has been tested and is awaiting the results.
Meanwhile, his fitness coach Marco Panichi has tested positive but is showing no symptoms.
The world No. 1 was set to play Andrey Rublev in Sunday's final in Zadar, Croatia, before the cancellation was announced.
What Do The Players Say?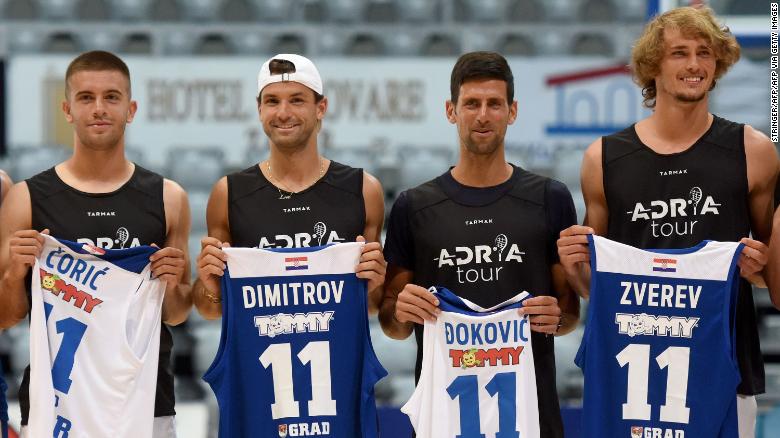 Peer's criticism:
Australian Nick Kyrgios wrote on Twitter in response to Coric's positive test: "Boneheaded decision to go ahead with the 'exhibition.'"
"Speedy recovery fellas, but that's what happens when you disregard all protocols. This IS NOT A JOKE."
Tennis great, Chris Evert, wrote on Twitter in response to photos of players in close physical contact over the course of the event.
"I don't understand … no safe distancing, total physical contact, no face masks, even the fans were without masks," said Evert.
According to the report, the event was the second leg of a four-part exhibition series.
It was aimed to raise fund for charity.
The event was intended to taking place in the Balkans while the ATP Tour is postponed until August 14th.
Croatian Institute of Public Health said there have been 2,317 confirmed cases of the coronavirus in Croatia and 107 deaths.
Government guidance permits outdoor sports events.
As long as athletes were two meters apart, while spectators to sit one-and-a-half meters away from one another.
Dimitrov's side:
"I want to reach out and let my fans and friends know that I tested positive back in Monaco for Covid-19," Dimitrov wrote on social media on Sunday.
"I want to make sure anyone who has been in contact with me during these past days gets tested and takes the necessary precautions."
Dimitrov says he is "sorry for any harm I might have caused" and is back home and recovering.
Thanks for your support and please stay safe and healthy.", he added.