NASCAR driver, Bubba Wallace, defended himself from people who tried to question his integrity, said CNN.  This is after the FBI said the noose found in his garage was already there even before they moved in.
Wallace said no matter how long the noose was there, it is still a noose. 
He said this in an interview with CNN's Don Lemon Tuesday night.
"It was a noose. Whether tied in 2019 or whatever, it was a noose."

"So, it wasn't directed at me, but somebody tied a noose. That's what I'm saying."

-Bubba Wallace
Wallace is the only African-American NASCAR driver.
Alone No More
He may be the lone African-descent driver, but NASCAR has recently banned the Confederate flags inside its speedway walls.
Wallace has long fought against the Confederate flag and what it represented, said LA Times.
But there are some fans who are giving this decision a push back.
Just this weekend a convoy of vehicles bearing the confederate flag drove by to show their dismay.
There was even a plane flying overhead, with the message "Defund NASCAR."
FBI Findings
According to CNN, the FBI said:
"(We) learned that garage number 4, where the noose was found, was assigned to Bubba Wallace last week."
"The investigation also revealed evidence, including authentic video confirmed by NASCAR.
"That the noose found in garage number 4 was in that garage as early as October 2019."
The FBI was asked whether the rope found in Bubba Wallace's garage was a noose.
Birmingham FBI spokesperson Paul Damon told CNN:
"It's my understanding that the rope was fashioned into a noose knot and used as a door pull."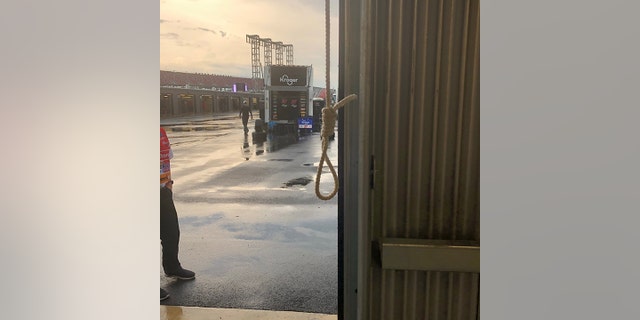 FBI said there were 15 agents assigned to the NASCAR investigation.
NASCAR Still Standing By Wallace
NASCAR since then has issued a statement regarding the FBI's decision.
"We appreciate the FBI's quick and thorough investigation.
"And (we) are thankful to learn that this was not an intentional, racist act against Bubba."
"We remain steadfast in our commitment to providing a welcoming and inclusive environment for all who love racing," the statement read.
Do you think the rope was a "door pull" or a threat?